Society of Petroleum Engineers (SPE)
Description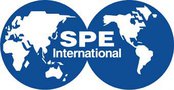 The Society of Petroleum Engineers (SPE) is the largest individual-member organization serving managers, engineers, scientists and other professionals worldwide in the upstream segment of the oil and gas industry.
The SPE's mission is to collect, disseminate, and exchange technical knowledge concerning the exploration, development and production of oil and gas resources, and related technologies for the public benefit; and to provide opportunities for professionals to enhance their technical and professional competence.
In 1957, the organization was officially founded as SPE, a constituent society of AIME. SPE became a separately incorporated organization in 1985.