Gaffney, Cline & Associates
Description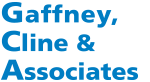 Gaffney, Cline & Associates is a global consultancy offering technical, commercial and strategic advice to the petroleum sector. The company's expertise is the business of petroleum, reflecting an unparalleled track record in:
Exploration, development and production evaluation and operations
Field development and rehabilitation
Reserves and resources reporting requirements or statutory reporting or financing purposes
Due diligence property evaluation and valuation for acquisition, divestiture or dispute resolution
Midstream and downstream facilities and economic evaluation
Advice to Sovereigns on petroleum licensing, depletion and fiscal policy and maximizing resource potential
Gaffney, Cline's client base ranges from the smallest start-up to the largest major, and includes governments, ministries, national oil companies, banks and transnational financial institutions.
The company's origins lie not in the United States or in the North Sea, but in Venezuela, where its founders broke with the then-traditional structure that separated the geoscience, engineering, and commercial functions within oil companies – creating instead a consultancy that integrated all of those disciplines and enabled a direct focus on the best result for the issue in question. Growing steadily from its first office in southern Trinidad, Gaffney, Cline & Associates has grown to maintain offices and operations in all of the world's major petroleum centers.
In 2008, Baker Hughes Incorporated acquired Gaffney, Cline & Associates as part of a strategy to expand the corporation's reach beyond the wellbore and into reservoir and asset management. Augmented by further acquisitions of Calgary-based EPIC Consulting Services and Aberdeen-based Helix-RDS consultancies, Gaffney, Cline now operates as a separate consulting entity within Baker Hughes. This separation allows the Gaffney, Cline team to provide impartial advice to third-party clients while still supporting Baker Hughes' worldwide operating entities.
Today, with over 400 technical and commercial advisory staff members, Gaffney, Cline & Associates offers an even broader and deeper range of services to its clients. Principal offices are located in Houston, Calgary, Buenos Aires, Rio de Janeiro, Aberdeen, London (Chiswick and Bentley, Hampshire), Kuala Lumpur, Singapore, Perth and Sydney. Business development offices are located in Moscow and the UAE (both to be converted into project offices in the near future), Almaty, Ashgabat and Luanda.
Gaffney, Cline's reputation is the provision of quality, impartial and technically based, but commercially astute, advice.