Contacts
Ocean Infinity Ltd.
5300 Memorial Drive
Suite 430
Houston, TX 77007
United States

Tel: 346 330 7000

Description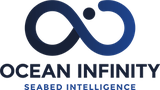 Ocean Infinity provides a comprehensive seabed exploration system that is highly efficient and permits multi-tasking. The company's comprehensive range of on-board systems and equipment permit continuous operation through to project completion, which provides the capability to inspect, repair or recover discoveries made during a survey, eliminating the need for a second vessel. Ocean Infinity's approach dramatically increases productivity and reduces downtime – saving clients time and money with their 'one stop shop' multi-purpose vessel.
Technology
Ocean Infinity has applied proven systems at an unprecedented scale on board a single multi-purpose offshore vessel. The technology is precisely integrated into a comprehensive system for offshore survey, inspection, repair and recovery.
Six HUGIN autonomous underwater vehicles (AUV) are capable of operating in 6,000 m water depth collecting high resolution data at record breaking speeds. The company's AUV fleet is accompanied by six unmanned surface vehicles (USV) to ensure precise positioning and constant communication.
With multiple autonomous vehicles working simultaneously utilizing innovative technology, Ocean Infinity are able to survey huge swathes of the seabed, quickly and with outstanding accuracy. The company can operate in shallow waters but excel in extreme depths, working in dynamic environments ranging from the Tropics to the Arctic ice.
Software
Customized bespoke software has been developed to be employed in the simultaneous operation of multiple assets and the processing of large geophysical data. Results are exceptionally accurate and Ocean Infinity deliver outcomes for their clients faster than ever before.
Mission Planning Software takes a holistic approach to planning the vehicles' missions, looking at the entire project area and breaking it into reduced missions that a single asset can survey within its operating window.
Multiple file servers and tape backup units provide hundreds of terabytes of storage on board. A cloud based computer system provides long-term storage along with on board processing of geophysical data.