Contacts
SEAPEX
20 Upper Circular Road
The River Walk #01-06
Singapore 058416

Tel: (65) 6533 2988

Description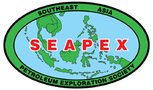 SEAPEX, or the South East Asia Petroleum Exploration Society is a non-profit organization that was established in 1973.
A voluntary organization SEAPEX has developed itself to have over 1,600 active members worldwide.
The objectives of SEAPEX are to:
Advance the science of geology and related earth sciences for petroleum and gas exploration, development and production specifically in South East Asia
Act as a body to improve awareness of oil and gas industry issues in the community
Foster a spirit of scientific research
Promote technologies for finding, developing and producing hydrocarbons
Disseminate information related to petroleum geoscience
Inspire a high standard of professional conduct
In order to do this SEAPEX holds regular meetings in Singapore on the second Friday of every second month. These meetings include:
A 45-60 minute presentation on upstream related topics
Opportunity to network, with each meeting attracting representatives from more than 100 E&P Companies operating throughout the Far East
In addition, SEAPEX holds regular Technical & Farmout Forums and a number of informal meetings are held periodically by the SEAPEX Regional Chapters.