Contacts
Watson Farley & Williams LLP
15 Appold Street
London, EC2A 2HB
UK

Tel: +44 20 7814 8000

Description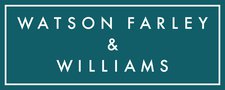 Watson Farley & Williams is a leading international law firm dedicated to client care, industry focus and investment in its people.
Working from offices in major financial centres in Europe, the Middle East, Asia and the USA, the firm's skilled legal experts deliver valued advice on a wide range of corporate and finance transactions and disputes.
NATURAL RESOURCES
Practical and with a sector-wide reputation for delivering bankable and scalable commercial solutions, the natural resources lawyers at Watson Farley & Williams have over 20 years' experience focusing on the oil & gas, mining & minerals and soft commodities sectors.
Watson Farley & Williams' natural resources legal experts have significant experience in the sector's investment hotspots including Africa, Latin America and Asia.
The firm's natural resources legal team has built long-standing relationships with a diverse range of clients throughout the supply chain – from exploration and production companies, owners, operators, services companies, distribution companies and transporters to local and national governments, traders, banks, export credit agencies, investors and financiers, funds and alternative capital providers.