Contacts
CGG
Tour Maine-Montparnasse
33, Avenue du Maine
B.P. 191
75755 Paris Cedex 15
FRANCE

Tel: +33 1 6447 4500

Description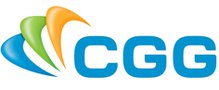 CGG is a leader in cutting-edge geoscience. The company have achieved leadership through a strong focus on innovation and a commitment to delivering the best sustainable solutions to their clients' energy challenges. CGG bring their clients a unique range of technologies, services and equipment designed to acquire extremely precise data and images of the Earth's subsurface. The company also provide state-of-the-art software and services for analyzing that data and developing a deeper understanding of the subsurface for exploration, production and optimization of oil and gas reservoirs.
Through its three complementary businesses of Equipment, Acquisition and Geology, Geophysics & Reservoir (GGR), CGG brings value across all aspects of natural resource exploration and exploitation. CGG employs around 5,300 people around the world.
CGG is listed on the Euronext Paris SA (ISIN: 0013181864) and the New York Stock Exchange (in the form of American Depositary Shares. NYSE: CGG).