Description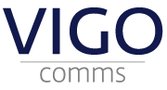 Vigo is a leading communications consultancy. Their team has led communications on transactions worth more than $20 billion over the last twenty years.
The company help guide businesses and execute communications strategies that enable them to connect effectively with their stakeholders through traditional and evolving media channels.
Vigo's senior consultants have advised companies across a range of sector specialisms including technology, media, telecoms, energy, mining, commodities, healthcare and support services.
Services Include
IPO
Secondary Fundraisings
Mergers and Acquisitions
Digital and Social Media
Analyst and Investor Relations
Corporate Reporting
Profile Raising
Improving Sentiment
Crisis Response
Litigation Communications
Government Relations