Block Energy Plc, the exploration and production company focused on the Republic of Georgia, is pleased to announce that sidetracking operations from the existing 16a wellbore ('16a' or 'the Well') on the West Rustavi field ('West Rustavi') commenced today. 16a is part of an initial two-well horizontal sidetrack drilling programme at West Rustavi targeting combined gross production of 650 bopd from the proven Middle Eocene formation by the end of H1 2019.
A whipstock sidetrack drilling device has been lowered in the Well by the ZJ40 drilling rig. The next operation will be to orient the tool in the right direction and then cut a hole or window in the side of the casing from which the drilling assembly can exit the existing wellbore and drill the build and 1,600 foot horizontal section into the reservoir. Production testing is forecast to start immediately after drilling operations are complete and the drilling rig has been moved off the wellsite. The target reservoir is at a depth of approximately 2,100m which the Company estimates to have had an original oil column up to 600 feet thick.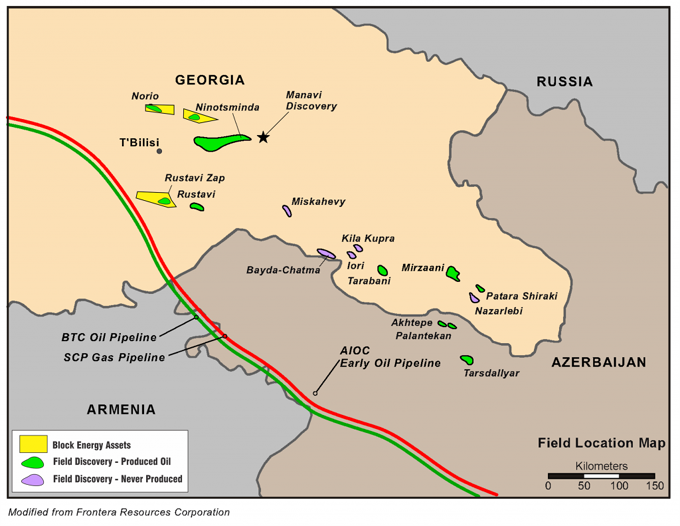 The sidetrack drilling of 16a follows a successful oil test in December 2018 which confirmed the Well lies in an active hydrocarbon system and that the previously producing Middle Eocene reservoir still contains reserves and remains pressurised. During the test, more than 200 barrels of oil were recovered from 16a during a 10 hour flow period and an additional 300 barrels of light oil flowed to a temporary wellsite production facility over the following days.
Block currently holds a 25% working interest in West Rustavi, which has an estimated 38 MMbbls of gross contingent resources ('2C') of oil (Source: CPR completed by Gustavson Associates, 1 January 2018 ("CPR")). As part of an agreed earn-in, upon completion of the two-well sidetrack programme, Block's interest in West Rustavi increases to 75%. Four other wells have been identified at West Rustavi offering similar opportunities for re-entry and sidetracking.
West Rustavi also holds gas discoveries which lie on trend with the same play being targeted by Schlumberger in neighbouring fields. The Company plans to re-test the gas potential of the West Rustavi licence in 2019 by re-entering up to two wells that previously flowed gas. According to the well passport the Company received on acquiring its interest in the field, one of the discovery wells flowed at rates up to 29,000 m3/d when originally tested in 1988. West Rustavi is one of three licences Block holds in Georgia, the others being a 100% interest in the producing Norio field, which has gross proven ('2P') oil reserves of 1.631 million barrels (Source : CPR), and where a workover and sidetrack programme is underway targeting 250 bopd by H1 2019; and a 90% interest in the Satskhenisi field, which has estimated 28 MMbbls of gross 2C contingent resources. (Source : CPR)
Chief Executive Officer Paul Haywood said:
"The first of an initial two-well sidetrack programme targeting an overall 650 bopd (325 bopd per well) at West Rustavi, 16a is a high impact well for Block and we are therefore delighted that drilling operations have commenced at the site on schedule. This is testament to the excellent work and meticulous planning carried out by the operations team on the ground in Georgia, including the successful flowback test at the Well in December which confirmed the targeted Middle Eocene reservoir still contains reserves and remains pressurised. With gross contingent resources of 38 MMbbls of oil, a total of six historic wells identified as suitable candidates for sidetracking, and a legacy gas discovery, the potential for West Rustavi to generate significant cash flow and value for Block is clear.
"With back-to-back drilling planned at West Rustavi and multi-well workovers underway at Norio, we expect the strong momentum behind the Company to continue as we focus on hitting our H1 2019 target of 900 bopd. At 900 bopd, and with current oil prices, our production will generate significant cash flow which, in line with our strategy will be reinvested in high impact activity across our existing licences and also new projects offering similar low cost, high potential production opportunities. We believe the disconnect between our £8.7 million market cap and the US$39.3 million NPV10 assigned to our 2.5 MMbbl 2P gross oil reserves alone is unwarranted, particularly as this does not take into account the 2C gross contingent resources of 72.9 MMbbls of oil and 626 BCF of gas across all three of our licences. We are confident this valuation anomaly will soon be closed as results come in and with this in mind I look forward to providing further updates on progress."
Board Change
The Company also announces that, after significant contribution to the successful IPO of the Company last year, and production of the Annual Report, Serina Bierer will be stepping down from the Board of Block Energy Plc with immediate effect. At this stage of her career, Serina has decided to concentrate on her other work interests.