A business support organisation has expanded in the North-east after successfully moving to an online engagement model in response to the Covid-19 pandemic.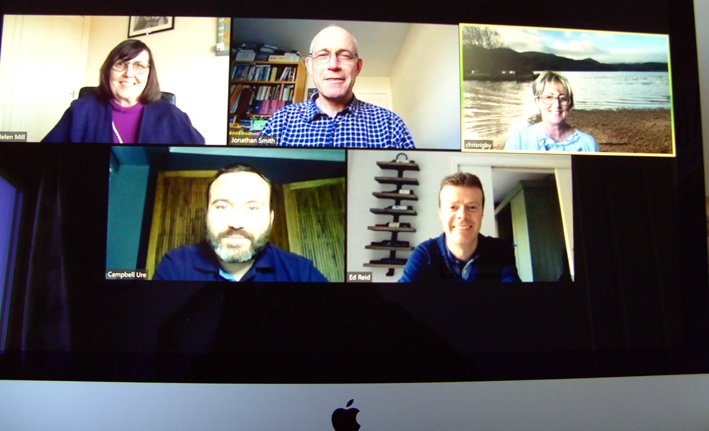 ONLINE SUCCESS: Top row, from left - Helen Mill, TAB board facilitator and coach, Jonathan Smith, TAB board facilitator and coach, and Chris Rigby, TAB board facilitator and coach. Front row, from left - Campbell Ure, TAB board facilitator and coach, and Ed Reid, managing director TAB (UK).
The Alternative Board (TAB) was launched in Scotland in 2017 as a peer-to-peer advisory and business networking platform for business leaders. It now has seven boards – four in the north-east and three in the Glasgow area – and the combined turnover of participating companies is £120m.
TAB Scotland has just formally launched a new board in Aberdeen, as the organisation's swift and efficient transition to a virtual format during the Covid-19 crisis further demonstrated its value to existing and prospective members. In addition, a move to add a further board in the North-east is in its early stages.
Helen Mill, TAB facilitator Aberdeen East, said the multiple benefits of membership engagement as businesses responded to the pandemic had simply underlined the value of its support and advice.
Helen said: "Members' reaction to going online has been extremely positive as they have shared advice, experience and lessons during an unprecedented period for business. In fact the response has been better than we could have anticipated. It's another example of how business people are ready and able to adapt to extremely difficult circumstances."
Best practice was shared across the international TAB network ahead of the lockdown and a detailed contingency plan – replacing the conventional face-to-face approach – was ready to implement in Scotland during the week the restrictions were put in place.
Online communication tools such as Teams and Zoom have been used for group member board meetings and one-to-one virtual meetings. The TAB UK annual conference, which featured over 50 delegates, was conducted virtually and the experience of hosting it online was shared as best practice.
Helen, a former director of commercial innovation at Robert Gordon University, said TAB Scotland was constantly listening to new ideas from its members and adapting its approach.
She said: "We've held additional meetings Scotland-wide via video when required, and individual boards have been sharing key information and ideas on WhatsApp groups. The feedback from members is that the board concept is just what's needed at this time, and that the support of fellow members has been extremely important to business leaders, many of whom are facing tough decisions as they work to sustain a viable business. Some members have learned to pivot their business and focus on new niches thanks to advice from fellow board members.
"It's been a whirlwind. The transition has been radical and swift, and yet we are already discovering new and creative ways to do things which we will probably retain after we have emerged from this crisis."
Each TAB board comprises up to eight business owners, directors or decision makers at larger companies. The boards provide a trusted space for experienced entrepreneurs to openly address challenges.
Members, who pay a monthly subscription, share experience and knowledge at monthly meetings hosted by a TAB facilitator who also provides one-to-one support. Additional management resources are also available, as is access to a worldwide network of business owners and leaders.
Scottish TAB boards cover a broad range of sectors including oil and gas, engineering, finance, manufacturing, health, software, retail, transport, retail and marketing. One of its members has experienced growth of more than 450% in the past year, with TAB membership recognised as a significant factor in the rise in turnover. The Alternative Board started nearly 30 years ago in the United States. There are TAB boards across 20 countries, with 80 in the UK in total.