i3 is an oil and gas development company initially focused on the North Sea. The Company's core asset is the Greater Liberator Area, located in Blocks 13/23d and 13/23c, containing 11 MMBO of 2P Reserves, 22 MMBO of 2C Contingent Resources and 47 MMBO of mid-case Prospective Resources. The Greater Liberator Area consists of the Liberator oil field discovered by well 13/23d-8 and the Liberator West extension, both of which i3 hold a 100% working interest in.
The Company's strategy strategy is to focus on the development of discoveries located close to existing infrastructure and the exploitation of producing fields, whilst maintaining limited exploration exposure.
History
i3 Energy was formed in 2014 and the following year the company commenced the targeting and screening of commercial opportunities.
In 2016, the company acquired 100% operating and working interest in Licence P.1987 (containing Liberator) and secured operator status by the OGA. A Development Plan was prepared for the Liberator Field including operational planning with key contractors and host facilities.
i3 Energy successfully listed in August 2017 and raised $7.6 million in a Private Placing.
An Environmental Statement and Field Development Plan was submitted in October 2018 and a Site Survey for the Liberator field was completed.
In March 2019, i3 Energy announced its intention to issue new ordinary shares of £0.0001 each in the Company via an accelerated bookbuild to raise in aggregate gross proceeds of not less than £16 million at a price of 37 pence per share.
It is intended that the aggregate net proceeds of the Placing and the anticipated £24 million junior secured loan note facility with warrants outlined in its announcement on 25 February 2019 will fund i3's planned 2019 multi-well appraisal and development drilling programme at its 100% owned and operated Liberator oil field and Serenity prospect and its near term working capital requirements.
Overview of UK operations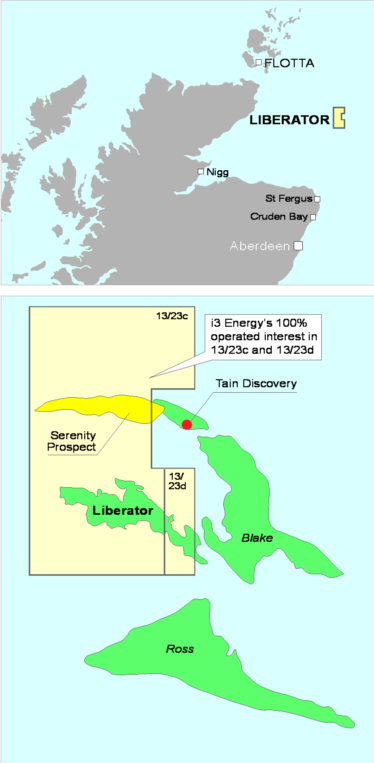 Liberator
Located in Blocks 13/23d and 13/23c, Liberator was discovered by Dana Petroleum in November 2013 with well 13/23d-8.
It is immediately adjacent to the Blake Field and only 2 km from Blake's producing drill centre.
Liberator was found to have 24-feet of net pay at the top of a 316-foot thick high-quality Lower Cretaceous Captain Sands reservoir with super-high permeability greater than 2 Darcy's. The reservoir was fully logged with extensive fluid sampling and PVT analysis proving the 30.3° API, 1.9 cP discovery shared similar fluid properties as the immediately adjacent Blake Field.
Liberator Development & Appraisal
100% i3 operated interest in near term production and low risk appraisal
World class Captain reservoir with fluid properties analogous to neighbouring prolific Blake field
Mid-case discovered, contingent and prospective resources of 314 MMbbls STOIIP, recoverable of 146 MMbbls
Highly attractive project economics
Phase I NPV10: US$602MM Pre-tax, $367MM Post-tax
Phase II NPV10: US$2.5B Pre-tax, US$1.5B Post-tax
Rig secured for 2019
In January 2019, the Company entered into a Rig Letter of Intent (LoI) with Dolphin Drilling Limited for a three-well appraisal and development drilling programme to be conducted this summer. Under the terms of the Rig LoI, i3 will be utilizing either the Blackford Dolphin or Borgland Dolphin semi-submersible drilling rig to spud its first well between 1st June and 1st July 2019. i3 will first drill the A3 appraisal well in Block 13/23c ("Liberator West"), then drill and suspend the first Liberator Phase I production well in Block 13/23d (L2) and complete the campaign by drilling the S1 well into the Serenity prospect.
i3's advancement of its integrated subsurface analysis now maps STOIIPs of 314 MMbbls in the Liberator field and 197 MMbbls in Serenity (using conservative assumptions on oil column thickness). If successful, the A3 appraisal well is expected to convert a portion of Liberator West's resources into reserves, in addition to determining the placement of the second Phase I production well (either L4 or L1), which would be brought onstream alongside the L2 well at a potential combined rate of up to 20,000 barrels of oil per day in mid-2020. A third Phase I well is expected to be delivered in mid -2021 to maximise infrastructure utilization.
The S1 well at Serenity is intended to prove what i3 believes is a material extension of the Tain discovery, which is an unclosed oil-bearing structure immediately adjacent to the east into which there are 4 well penetrations. The A3 and S1 appraisal wells will allow the Company to optimally size the standalone FPSO facility for a potentially enlarged Phase II development which includes both the Liberator and Serenity.
Serenity Prospect
Amplitude supported feature on trend with Tain discovery
Tain discovery encountered 32° API oil in Coracle and Captain sands, subsequently appraised by three wells
i3 estimates 197 MMbbls STOIIP based on conservative oil column thickness
Summer 2019 drilling provides exposure to low cost/high return exploration/appraisal upside
Appraisal and Development Funding
The Company continues to progress its previously announced joint venture ("JV") farmout process and has been pleased with the response. Several companies are conducting due diligence, with additional parties scheduled to enter the process in January, and i3 expects to set a bid date during the course of February.
Phase I production cash flow funds Phase II and Serenity
Summer 2020 delivery of Liberator Phase I provides organic, cash-flow driven development of Liberator Phase II and Serenity (upon successful 2019 summer appraisal)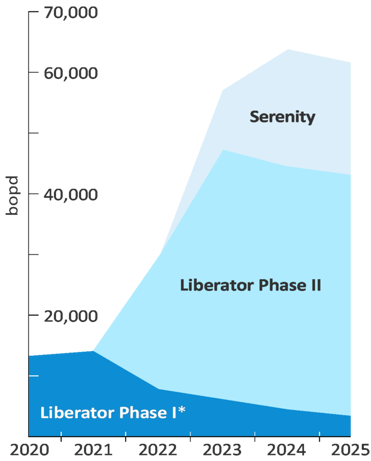 *Liberator Phase I 2020 production annualized for mid-year first oil (initial production rate expected to be c.20,000 bopd)
In addition to advancing its JV process, the Company is working with senior and junior lenders in the UK and North America negotiating facilities that would, on finalisation of agreements, provide between US$100 and US$130 million, of which up to 25% would be available towards i3's 2019 appraisal and development drilling, with the balance drawable for the residual 2019/2020 Liberator Phase I production wells, subsea installation and field tie-in.
The Company expects its three-well 2019 drilling programme to cost c.US$41 million with additional capex to 2020 first oil of c.US$90 million, inclusive of considerable contingency.
i3 reports strong interest it continues to receive to fund its proposed appraisal and development programme and expects to provide further funding updates.
AGR Tracs Competent Persons Report (Nov 2017)(1)

1. Liberator Reserves from AGR Liberator CPR 2017-11-03, Phase II (Liberator West) Contingent Resources and Prospective Resources from AGR Liberator Phase II CPR 2017-11-08
2. Liberator Phase II (East) CoS: 70% chance of finding sufficiently large volume, Liberator Phase II (West) CoS: Geological CoS 56.25%
Liberator cluster - subsurface overview
Gross thickness in excess of 300ft
Net to gross of ~98%
Average porosity of 28% and permeability ranging from 1500 - 3300 mD
Discovery well 13/23d-8 encountered a 24ft hydrocarbon column – sand thickness materially increases moving westward from discovery well through Phase I and into Phase II capture area
Fluid properties indicate under-saturated oil of similar quality to Blake field; 30.3° API, 1.9 cP viscosity at reservoir conditions and a GOR of 341 scf/stb.
OWC at 5270ft TVDSS, confirmed by logs and MDT, consistent with Blake OWC and regional analogue data
CONTACT
i3 Energy
11 Abercrombie Court, Prospect Road
Arnhall business Park, Westhill, AB32 6FE
Scotland
Tel: +44 (0)1224 945 980
BOARD OF DIRECTORS
David Knox Non-Executive Chairman
Majid Shafiq Chief Executive Officer
Graham Heath Chief Financial Officer
Neill Carson Non-Executive Director
Richard Ames Non-Executive Director
SENIOR OPERATIONS TEAM
John Woods Chief Operating Officer
Mihai Butuc Manager, New Ventures
Ian Little Drilling & Operations Manager
Colin Tannock Geoscience Evaluator
Martyn Eames Head of Commercial
Sheri Barton Manager Finance and Admin
A selection of more than 1,000 oil company profiles are available to purchase from our continually updated database in pdf or Word format. Contact us for further details.