Highlights
Continued strong monthly production achieved at Tangai-Sukananti at an average of 710 barrels of oil per day representing no change from December production
January production volumes totalled 22,000 barrels of oil (JV share) or 12,100 barrels (net to Bass)
January oil sales totalled 22,175 barrels of oil (JV Share) or 12,196 barrels (net to Bass)
Monthly average oil price was US$55.74
Monthly Production and Sales:
Tangai-Sukananti Historical Production (55% basis)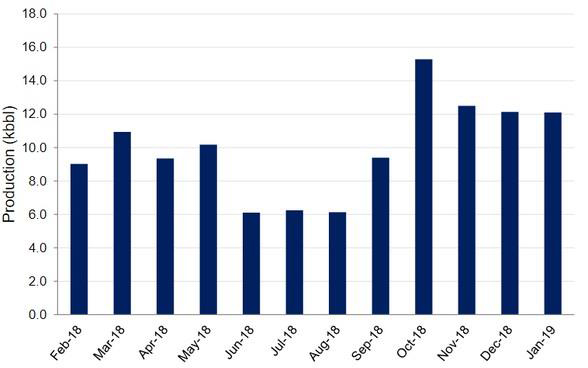 Bass Oil Limited provides its monthly operations update for January 2019. Total field production at Tangai-Sukananti for January was 22,071 barrels of oil (JV Share) or 12,100 barrels of oil (net to Bass). December oil sales totalled 22,175 barrels of oil (100% JV Share) or 12,196 barrels (net to Bass).
Oil prices stabilised and recovered somewhat during January. The average monthly realised oil price was US$55.74 compared with a monthly average oil price of US$53.86 per barrel recorded in December. The fields continue to generate positive cash contributions to the business with field operating costs at or below US$30 per barrel.
Production Operations
Strong field performance continues with production in January averaging 710 barrels of oil per day (JV share), which was equal to production levels recorded in December. The production optimisation effort is proving successful in keeping production stable.
The field team is preparing for planned second quarter preventative maintenance activities to minimize field and well downtime due to scale.
Development Planning
Construction of the Bunian 5 well site is complete. The award of the drilling contract for the program has been delayed by the availability of 650 horsepower capacity drilling rigs. Bass proposes to issue a tender to for the provision of 750 horsepower capacity drilling rigs which are more common to the area. The Bunian 5 well is expected to commence drilling by mid year.
The drilling program is expected to increase the production capacity of the Tangai-Sukananti fields as well as increase developed reserves.
Planning work for the upgrade of the Bunian and Tangai production facilities continues. A facility upgrade is required to process the additional oil and fluid production anticipated following the completion of the drilling phase of the work program.
Business Development
Bass continues to evaluate a number of potential onshore Indonesian acquisition targets, particularly those closest to its existing oil production infrastructure, as the Company looks to add additional prospective oil properties to its portfolio.
KeyFacts Energy Australia country page l Link to Bass Oil Australia country profile