Purchase of 15% share in ADNOC Refining and in a to-be-established global Trading Joint Venture
Estimated purchase price for OMV amounts to approx. USD 2.5 bn based on 2018 year end net debt
Participation in the fourth largest single site refinery in the world, integrated in petrochemicals
Key milestone in executing OMV´s Strategy 2025: OMV creates integrated international Downstream Oil Business outside Europe
OMV, the international integrated oil and gas company based in Vienna, signed agreements for a 15% share in ADNOC Refining. The ADNOC subsidiary owning and operating 922,000 barrel per day of refining capacity in Abu Dhabi including the Ruwais Refinery, the world´s fourth largest single site refinery, part of the Ruwais mega-site and integrated in petrochemicals. In addition, OMV and ADNOC agreed to create a Trading Joint Venture with the same shareholder structure. This new Joint Venture will market export volumes and optimize the non-Abu Dhabi feedstock supply of ADNOC Refining. The shareholder structure for both, the ADNOC Refining and the to-be-established trading joint venture, will be: OMV 15%, Eni 20% and ADNOC owning the remaining 65%. OMV´s 15% stake will be consolidated at equity.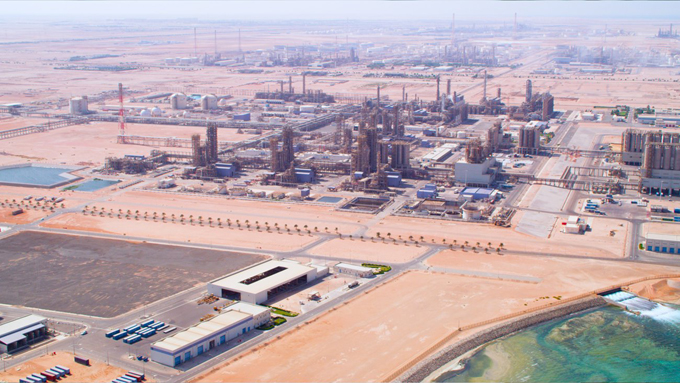 Image source: ADNOC
The estimated purchase price for OMV amounts to approximately USD 2.5 bn based on 2018 year end net debt. The final purchase price is dependent on the net debt as of closing and certain working capital adjustments. The enterprise value for 15% amounts to USD 2.9 bn. The transaction will be accretive to OMV's earnings per share from the first year onwards. A financial framework to achieve self-funded growth, paired with an attractive dividend policy has been agreed. The transaction is expected to close in Q3/2019, subject to customary closing conditions and all regulatory approvals.
Dr. Rainer Seele, Chairman of the OMV Executive Board and CEO:
"I am pleased to further build on our strategic partnership with ADNOC and Abu Dhabi. With the acquisition of a share in ADNOC Refining and the creation of a global Trading Joint Venture, OMV has established a strong integrated position in Abu Dhabi along the value chain, spanning from Upstream production to Refining & Trading and Petrochemicals. This transaction is the next major milestone in OMV´s execution of Strategy 2025. We are confident that our extensive operational refining know how and trading experience will contribute to sustainable value creation and profitable growth."
Manfred Leitner, OMV Board Member Downstream:
"This partnership is a strategic cornerstone for OMV Downstream. With a share in ADNOC Refining, including the world-class, refinery complex in Ruwais, Abu Dhabi becomes our first core position outside of Europe, at the doorstep of global growth markets in Asia. Upon closing, we immediately grow our refining capacity by 40% and our olefin capacity by 10%. With the creation of the Trading Joint Venture, ADNOC and OMV establish the same commercially integrated business model that generates significant value for OMV in Europe. That makes it the perfect platform to bring to bear OMV Downstream's world-class know how and skills. ADNOC Refining's project pipeline will further strengthen the attractiveness of the Ruwais complex including additional growth in petrochemicals."
ADNOC Refining operates the world's fourth largest single site refinery complex (Ruwais East and West), as well as Abu Dhabi Refinery, and employs approximately 4,700 staff. With nearly zero heavy fuel oil it is well positioned for IMO 2020 (low Sulphur marine fuel). The highly complex refinery site is already integrated in petrochemicals with the production of over 1.5 million tonnes per annum propylene. It furthermore encompasses advanced logistics networks as well as utility assets supplying the Ruwais site. A strong value-focused project pipeline targets increased feedstock flexibility and upgrade of existing production.
The future Trading Joint Venture will be an international exporter of ADNOC Refining's products, with export volumes equivalent to around 70% of production. Trading activities are expected to begin as early as 2020. The Trading Joint Venture is a key element to maximize the intrinsic value of the asset with its global span including the regions Middle East, Asia and Africa. This meets the global fuels demand that will increase by 9% from 2017 to 2030 driven by the Asia Pacific region according to World Energy Outlook 2018, IEA (International Energy Agency).