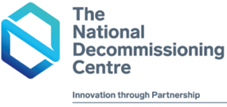 Unique partnership between The Oil & Gas Technology Centre and University of Aberdeen
£38 million investment to create world-leading research and development centre
Focused on reducing costs, extending field life and science-based thought leadership
The National Decommissioning Centre (NDC), a global technology R&D hub, is today opened by Lord Duncan, UK Government Minister for Scotland and Paul Wheelhouse MSP, Scottish Energy Minister, in Newburgh, in North-East Scotland's Energetica Corridor.
The government ministers joined industry and civic leaders to celebrate the launch of this long-term £38m partnership between the Oil & Gas Technology Centre and the University of Aberdeen, part of the Aberdeen City Region Deal.
100 offshore platforms and 5,700km of pipeline are forecast to be decommissioned or reused over the next decade on the UK Continental Shelf. With the Oil and Gas Authority estimating the total cost of oil and gas decommissioning to be £58bn, the NDC will help industry deliver the >35% cost reduction target set by the regulator in 2016.
Combining industry expertise with academic excellence, the Centre aims to work in partnership with companies to become the global leader in research and development (R&D) focused on reducing costs, extending field and asset life, and transforming the traditional approach to decommissioning.
The NDC builds on the world-leading R&D capability at the University of Aberdeen in areas such as decommissioning technologies, predictive modelling, environmental assessment and the economics of decommissioning.
The Centre is in advanced discussions with several anchor partners, focused on bringing together academic researchers, experts from industry and business partners with the best experience, ideas and equipment to create a unique environment for collaborative R&D.
The NDC is home to the most powerful industrial laser at any UK academic institution, a state-of-the-art digital visualisation and collaboration suite, and a supercomputer cluster enabling the fast simulation and modelling of innovative decommissioning scenarios.
This includes facilities for technology trials and rapid prototyping, with a hyperbaric testing vessel that can simulate ocean conditions of 6,500m, an indoor freshwater immersion tank, environmental chambers for temperature testing from -40C to +180C and hangar space for the design and construction of decommissioning technology.
Led by Professor Richard Neilson from the University of Aberdeen and the OGTC's Dr Russell Stevenson, the NDC is developing a wide-ranging, industry-led research programme, with dedicated access to the brightest and best PhD and MSc students, and several projects are already underway.
Linking industry demand and expertise with academic capability and skills will help createcompetitive advantage, not only for the oil and gas industry, but for decommissioningchallenges in the wider energy sector, for example, in offshore renewables.
The NDC will also collaborate with R&D institutions and innovation centres across the country active in late life asset management and decommissioning, and partner with fishing, marine, safety and environment organisations in the UK and internationally.
KeyFacts Energy Industry Directory: National Decommissioning Centre