Frontera Resources Corporation, the European-focused oil and gas exploration and production company, announces the mobilization of a workover rig to T-16 well, situated inside the 80 square km Taribani field area located in onshore Block 12 in Georgia.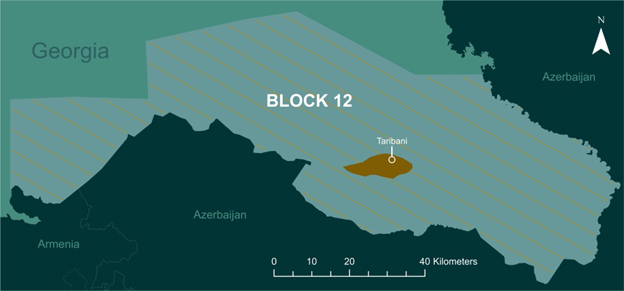 Block 12 location (source: Frontera Resources)
The Company has successfully completed a technical study of Taribani wells drilled by a previous operator and has selected the following wells for workover operations: T-16, T-24 and T-31. The intention is to clean these wells and check well integrity for future sidetracking/drilling operations in order to drill and complete the wells in the Eldari B reservoir.
As previously announced, Zones 19, 21, 23 and 24 of the Eldari B interval were penetrated during the drilling of the Niko-1 well, the first well drilled by the Company into the Eldari B formation. Testing of the interval confirmed the presence of oil and gas bearing Miocene aged marine sandstones with good reservoir properties. T-39 was the second well drilled by the Company into Zone 19 of the Eldari B reservoir.
The Company's CPR produced by Netherland, Sewell & Associates estimates 51.3 million barrels of recoverable oil from Zones 19, 21, 23 and 24 of the Eldari B formation, situated between 3000m and 3400m interval, supporting management's view of the significant potential of the Eldari B formation. The Gareji formation, situated below the Eldari B reservoir in the Taribani field, is further estimated to contain 3.2 Trillion Cubic Feet of recoverable gas according to the CPR estimates.
The Taribani field is a large under-developed oil field covering an area of approximately 80 km² (potentially 800 km²) on the southern side of Block 12. Productive zones are situated in the Miocene and Pliocene aged sandstone reservoirs that have been deposited in fluvio-deltaic (continental) to nearshore marine environments. The reservoirs are situated between -2200 and -3500 meters.