With the AAPG holding its annual international conference and exhibition in Cape Town from 4-7 November, alongside Africa Oil Week from 5 -9 November, there is plenty to attract the geologist to South Africa this autumn. These include the spectacular Swartberg Mountains in the Western Cape province of South Africa, considered to be one of the finest exposed fold mountain chains in the world. Two dramatic passes afford the geologist unparalleled views of Palaeozoic quarzitic sandstones folded spectacular fashion.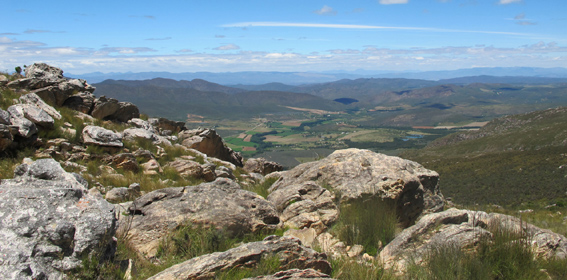 Image source: Jane Whaley
The Swartberg (Black Mountains in Afrikaans) range, part of the Cape Fold Belt, stretches from the town of Laingsburg, 200 km east of Cape Town, eastwards for 230 km, with the Klein Karoo to the south and the vast expanse of the Groot Karoo to the north. The easternmost end of the range rises over 2,000m and is traversed by two dramatic roads: the paved Meiringspoort Pass and unpaved Swartberg Pass. It is possible to drive a circular route encompassing both these passes – a round trip from the town of Oudtshoorn of about 170 km – in a day, allowing for frequent stops to gaze at the breathtaking views and the awe-inspiring rocks, and also the beautiful flowers, vegetation and bird life. Much of the Swartberg range is a UNESCO World Heritage site.
Read further here l KeyFacts Energy Industry Directory: GEO ExPro