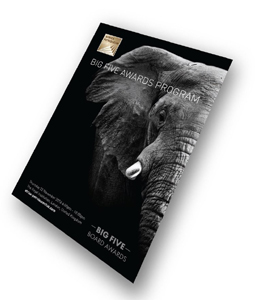 This evening at the Big Five Board Awards, the 2018 Award Winners will be announced at a reception-style event for these long-respected and annual accolades. Awarded since 1997 and with over 100 recipients to date, the Big Five Board Awards enter an incredible 22nd year. The good news is we have a few places remaining and welcome you to register and join us for some excellent African oil & gas networking.
Confirmed Attendee Companies: PGS, Ocorian-ABAX, EnergyScout Limited, ExxonMobil, Vinson & Elkins RLLP,Oil Review Africa, Halliburton, Africa Matters Limited, GEOPUBLISHING LTD., SPTEC Advisory, Upstream Oil & Gas Newspaper, McKinsey & Co, Preng & Associates, Vieira de Almeida, BP, SCDM ENERGY LTD, Equinor, Impact Oil & Gas Limited, The Financial Times, BP Oil International, MGGS bv, Preng & Associates, Kosmos Energy, African Energy, Global Teamwork Associates Ltd, Woodside Energy, Tudor Pickering Holt & Co, Woodside Energy, Menas Associates, CGG, Standard Bank, Invictus Energy Ltd, Orient Magazine Newspaper and Communication/Orient Energy Review, Invictus Energy Ltd, SLR Consulting, Tullow Oil, GEO ExPro, FAR Limited, SNH Cameroon, RPS Energy, JJG Consulting International Ltd, CNOOC International, African Petroleum, Prism, INP, Petronas
BIG FIVE BOARD AWARDS 2018 SHORTLIST
Distinguished Individual Contribution to the African Industry - Elephant
Cath Norman, CEO, FAR Limited
Peter Elliot, CEO, NVentures
Carlos Zacarias, INP, Mozambique
Austin Avuru, CEO, Seplat Petroleum Development Company
Corporate Contribution to African Petroleum & Excellence - Lion
ExxonMobil
Kosmos Energy
Total
Noble Energy
Best Independent Player in Africa - Leopard
Far Limited
SCDM Energy, Côte d'Ivoire
Assala Energy
Impact Oil & Gas
Best Service & Supply Company - Buffalo
Polarcus
TGS
MIDIS Energy Services Limited, Nigeria
RPS
Best African National Oil Company - Rhino
The Egyptian Natural Gas Holding Company (EGAS)
NAMCOR
OMNIS
SNH Cameroun
Africa's Oil Legend Award - Special Category
Samuel Dossou-Aworet, Chairman, Petrolin
Jasper Peijs, Exploration Vice President, BP
Barry Morgan, Upstream
Jean-Jaques Koum, SNH
Event Program
18:00
Opening - President's Remarks
Gayle Meikle, President, Africa Petroleum Club, CEO, Frontier Communications
18:05
Setting the Scene, the Big Five Board Awards, Paul Dailly, Independent, previously SVP Kosmos Energy, Dallas
18:45
Keynote Speaker, Paul Eardley-Taylor, Head: Oil and Gas, Standard Bank Group speaking on Mozambique, Supplying Gas to the World?
19:15
Guest of Honour: Communities & Wildlife Conservation, Lynda Chalker, Baroness Chalker of Wallasey, President of the Royal Geographical Society, Founder & President, Africa Matters, London
19:30
Charity Auction
20:00
Networking Reception
The Africa Petroleum Club welcomes Members, Patrons and Sponsors as a means to join our exclusive network dedicated to Africa and its exploration industry. Your company will have an increased global exposure via our prestigious Club to promote yourselves to the industry. Your company will have an increased global exposure via our prestigious Club to promote yourselves to the industry by being associated with our events and first-class networking.
KeyFacts Energy Industry Directory: Frontier Communications