Gazprom Neft and China National Petroleum Corporation (CNPC) have entered into a technical partnership at the Eastern Economic Forum. The document was signed by Alexander Dyukov, Chairman of Gazprom Neft Management Board, and Wang Yilin, Chairman of CNPC.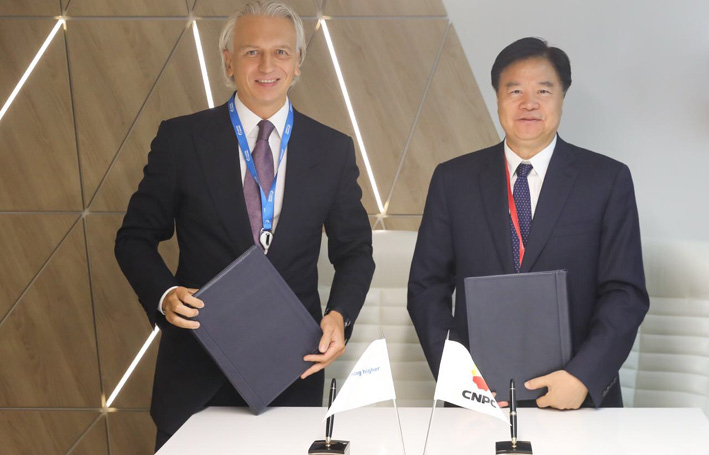 Image source: Gazprom Neft
One of the partnership's key objectives is to develop and adopt advanced techniques to increase oil recovery, including polymer and surfactant flooding*. As an initial step, the companies will launch a feasibility study for surfactant flooding at the Sutorminskoye field (Yamal-Nenets Autonomous Area). Based on the results of this study, the parties will decide on pilot tests before moving to potential field-wide application, after which the technology can also be deployed at other assets of the Company.
Gazprom Neft has a successful track record of using polymer and surfactant flooding at its assets. This approach proved highly effective at the West Salymskoye field in the Yamal-Nenets Autonomous Area, enabling the oil recovery rate in a depleted area to increase to 69%, of which 17% was a direct result of the flooding. The joint initiative of the Gazprom Neft Science and Technology Centre and CNPC is in line with the Company's focus on the latest technologies of enhanced oil recovery that make it possible to tap into the hard-to-reach reserves at mature fields.
Alexander Dyukov, Chairman of Gazprom Neft Management Board, commented:
"Improving the efficiency of hydrocarbon production is a major part of Gazprom Neft's drive for innovations. By relying on the latest developments in enhanced oil recovery, we can deliver greater performance in our subsoil operations and extend the lives of many fields in Western Siberia. The agreement with CNPC, a global leader in surfactant flooding, is yet another step towards improving our technical competencies. We see our partnership as a strong opportunity to increase the efficiency of production at Gazprom Neft's mature assets."
Wang Yilin, Chairman of CNPC, commented:
"This is just the beginning of our cooperation to adopt polymer flooding. After successfully completing the first stage, we will be able to roll out the technology, which has proved effective at the Daqing field in China, to other assets of Gazprom Neft."