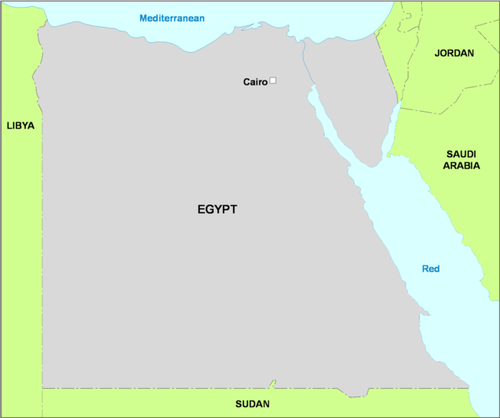 Oil and gas is one of the most dynamic industries in Egypt, and hydrocarbon production is by far the largest single industrial activity, representing approximately 16 percent of Egypt's GDP.
Egypt onshore and offshore exploration and production activity is well developed. Currently, there is a boom in the Egyptian gas market with many discoveries being made since the government improved the fiscal terms and allowed gas prices to increase thereby promoting exploration activity.
Egypt has significant energy resources, both in traditional fossil fuels and in renewable energy. Egypt's proven hydrocarbon reserves stood at 3.5 billion barrels of oil and 65.2 trillion cubic feet (tcf) of natural gas at the end of 2016. The Egyptian government encourages international oil companies (IOC) to participate in the oil and gas sector, and currently more than fifty IOCs are operating in Egypt.
Egypt plays a vital role in international energy markets through the operation of the Suez Canal and Suez-Mediterranean (SUMED) pipeline. Expanded in 2015, the Suez Canal is an important transit route for oil and liquefied natural gas (LNG) shipments travelling southbound from North Africa and along the Mediterranean Sea to Asia. Fees collected from the operation of these two transit points are significant sources of revenue for the Egyptian government.
The Egyptian General Petroleum Corporation (EGPC) is the state entity charged with managing upstream activities including infrastructure, licensing, and production and also owns and operates much of the country's refining capacity. International and foreign national oil companies play a significant role in Egypt's upstream sector on a production-sharing basis with EGPC. In addition to the EGPC and the Egyptian.
The Egyptian government targets US$10bn of foreign investment in the oil and gas sector for the 2018-2019 fiscal year (starting from July 2018), which would be a 25% increase compared with the 2016-2017 fiscal year. The country is speeding up its offshore Mediterranean gas projects, of which in particular the giant Zohr discovery.
2018 in review
Egypt's economy maintained a strong rate of growth throughout 2018 on the back of increased gas production, with ongoing fiscal reforms helping to reduce the budget deficit and provide a strong platform for future expansion.
The IMF, in a report issued in November, forecast GDP would expand by 5.3% in 2018, an increase on the 4.2% expansion of 2017 and the highest rate of annual growth since 2008.
This was supported by figures released by the Central Bank of Egypt (CBE), which put year-on-year (y-o-y) GDP growth at 5.3% in the first half of the year.
Expansion was driven by strong performances in the extractive industries (9%), manufacturing (4.2%), wholesale retail and trade (4.2%), and real estate (4.1%).
Domestic gas production is expected to total around 60bn cu metres in 2018, up from 49bn cu metres in 2017, with the figure forecast to rise to 72bn cu metres 2019.
This will not only increase the gas available for domestic consumption, but could also provide additional opportunities for export, with limited shipments of around 2m cu metres sent to Jordan in 2018.
Egypt Key Facts

| | |
| --- | --- |
| Official name: | Arab Republic of Egypt |
| Capital: | Cairo |
| Population: | 99,126,440 (2018) |
| Area: | 1,001,450 square kilometres |
| Form of government: | Republic |
| Language: | Arabic, English, French |
| Religions: | Sunni Muslim, Coptic Christian |
| Currency: | Egyptian Pound |
| Calling code: | +20 |

Gas self-sufficiency
Egypt has taken a major step towards reasserting itself as a regional energy hub, halting the import of liquefied natural gas (LNG) following a recent surge in domestic gas production.
In late September 2018, Tarek El Molla, the minister of petroleum and mineral resources, announced that Egypt had received its final shipment of LNG after meeting gas self-sufficiency.
The decision to halt imports was largely driven by increased production at the Zohr offshore gas field, located 200 km north of Port Said in the Mediterranean Sea, which has grown six-fold since operations began in January, the minister said.
Zohr's output jumped to 2bn standard cu feet per day (scfd) in September, up from 350m scfd in January. Discovered by Italian energy multinational Eni in 2015, the field holds reserves of more than 30trn standard cu feet (scf), with local media reporting that officials were aiming to increase output to 3bn scfd by the second half of next year.
As a result of the increase at Zohr, Egypt's total gas production rose to 6.6bn scfd in September 2018, according to the Ministry of Petroleum and Mineral Resources. This was above last year's average of 5.1bn scfd, which itself was a 15.9% increase on 2016's total of 4.4bn scfd.
Annual savings
The decision to halt LNG imports is expected to have a significant impact on government finances, with El Molla estimating it could save the state as much as $250m per month, or around $3bn a year.
Meanwhile, the spike in natural gas production marks a reversal of the process that led to Egypt becoming a net gas importer in recent years.
The instability caused by the 2011 revolution saw natural gas production fall from 59bn standard cu metres in 2010 to 40.3bn standard cu metres in 2016, before rebounding to 49bn standard cu metres last year, according to the BP Statistical Review of World Energy 2018. This, coupled with increasing domestic demand, saw Egypt become a net importer of gas in 2014.
Nevertheless the financial savings of halting LNG imports could be somewhat offset by increased oil prices: as a net importer of refined gasoline and diesel, the government had calculated its FY 2018/19 budget on prices of $67; however, Brent crude prices have been consistently above this figure since April, peaking at more than $85 per barrel in early October and currently around $77 per barrel.
Increased production, new law seek to position Egypt as regional energy hub
Achieving natural gas self-sufficiency and ramping up production aligns with plans to resume exports and position the country as a regional hub for energy trade.
With proven natural gas reserves of 62.8trn scf at the end of 2017, the third largest in Africa, according to BP, the sector has significant expansion potential.
To help unlock this potential, in August last year the government passed a new law opening up the gas market to the private sector. The legislation led to the creation of the Gas Regulatory Authority, an independent public body charged with regulating the rules that allow private companies to directly ship, transport, market, store and trade gas using the country's network and pipeline infrastructure.