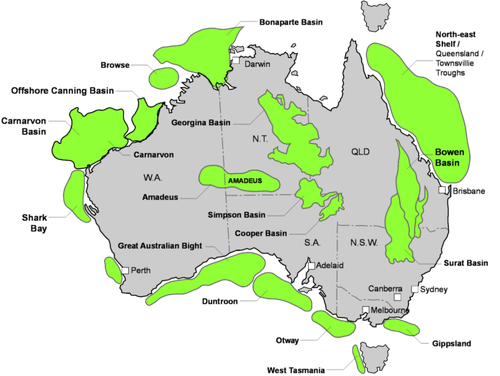 The first major oil fields in Australia were identified in the early 1960's off the south-east coast of the country, followed by the development of the North West Shelf Project, off the coast of Western Australia (WA), in the 1980s. Geographically, Western Australia is the largest producer (64% of national output), followed by Queensland (11%), South Australia (7%), New South Wales and Victoria each with 6%, Tasmania with 5% and the Northern Territory (1%). Natural gas (LNG) accounts for just under two thirds and crude oil accounts for almost 22% of total production, with the balance being made up by coal seam gas (8.3%), LPG (4.9%) and shale oil and gas (0.2%). There are approx. 18,000 oil and gas wells in Australia.
2017 Operational Highlights (Source: BP Statistical Review)

| | |
| --- | --- |
| Oil production | 346 thousand bpd |
| Proved oil reserves (year-end) | 4.0 thousand million barrels |
| Natural Gas production | 113.5 billion cubic metres |
| Natural Gas proved reserves (year-end) | 3.6 trillion cubic metres |

While large reserves of shale gas, estimated to be in the order of 396 trillion cubic feet, have been identified across South Australia (SA), the Northern Territory (NT) and WA, there is no substantial commercial production of shale gas at this time. Compared to the U.S., Australia's known shale gas reserves are in very different conditions, being largely located in non-populated areas and many are at depths of 6-7,000ft. State governments have different policy positions in relation to the development of oil/gas resources in their territory. For example, NSW has a moratorium on development of unconventional resources, Victoria has a moratorium on all onshore gas exploration (including conventional resources) and the NT has proposed a moratorium on fracking.
Country Key Facts

| | |
| --- | --- |
| Capital | Canberra |
| Population | 24 546 779 (2016) |
| Area | 7,692,024 km² / 2,969,907 sq miles |
| Government type | Federal democratic administrative authority |
| Religions | Protestant, Roman Catholic |
| Currency | Australian dollar (AUD) |
| Calling code | +61 |

2018 Offshore Petroleum Exploration Acreage Release
The Australian Government's annual Offshore Petroleum Exploration Acreage Release (acreage release) is a key part of the Australian Government's strategy to promote petroleum exploration in Australia's offshore waters. The acreage release provides explorers with new offshore areas the government has made available for either work program or cash bidding. It enables industry to undertake longer term planning to support the ongoing investment in, and development of, Australia's offshore petroleum exploration industry.
The acreage release is underpinned by Australia's stable economic environment and well-established, objective-based regulatory framework that seeks to balance environmental, social and economic considerations in the development of Australia's natural resources.
All release areas have been nominated by industry, assessed and considered by government, publically consulted, and selected to offer the petroleum exploration industry a variety of investment opportunities. The acreage release provides the petroleum industry with access to comprehensive pre-competitive geological and geophysical datasets and ensures the provision of quality information on third party issues that may impact on successful applicants when conducting exploration work programs.
The 2018 acreage release comprises 21 areas located across six sedimentary basins in Commonwealth waters offshore of Western Australia, South Australia, Victoria and the Ashmore and Cartier Islands. 16 areas are available for work program bidding and five areas for cash bidding. The areas are located in water depths of 15 to 4,534 metres, vary in size from 80 km² to 12,128 km² and also vary in level of existing geological knowledge. All areas are supported by pre-competitive geological and geophysical data and analysis undertaken by Geoscience Australia.
2018 release areas and closing rounds
| Round | Release areas | Closing date for bids |
| --- | --- | --- |
| Round One - work program | AC18-1, W18-1, W18-9, W18-11, W18-12, V18-1, V18-2, V18-4, V18-5 | 18 October 2018 |
| Cash bid prequalification | | 4 October 2018 |
| Cash bid auction* | | 7 February 2019 |
| Round Two - work program | | 21 March 2019 |
*Only prequalified applicants will be invited to submit a cash bid